Washington DC Double Decker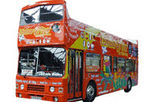 Washington DC is a bustling metropolis, which is amongst the busiest city in the United States. It also happens to be the capital of the great country, named after its president, George Washington. It is the political central of the United States, home to the iconic White House where the current president of the day resides.
Situated on the Potomac River bank, Washington attracts thousands of tourists from around the world as there is so much to do and see within the city. Washington has been listed as one of the top twenty most visited cities around the world, and within the USA.
There are a whole host of things one can do in Washington, visiting its phenomenal monuments seeped in US history. This includes the Lincoln, Jefferson and Washington memorials along with memorials from the Korean and Vietnam War. The US capitol building is also a very popular sight for tourists on their visit to Washington.
However the most must-see place in Washington is of course the White House, along with the US Supreme Court where history is made everyday which shapes up our world today.
Tour Washington from the top of a double-decker bus, which helps you get a unique perspective of the city, above crowd-level so that you have a panoramic view of all of its wonderful sights, without any hassle, from the comfort of your own seat, discovering all that the city has to offer. You can explore the city's well known shopping areas and its high-end restaurants after you are done with sightseeing.
Washington has a lot to offer for sports fans as well. You can always go to Nationals, Wizards or Capitals games and cheer along with the crowd for a good time. For those who are more artistic, feel free to spend your night watching beautiful ballet recitals, or go to the opera being performed at the John F Kennedy Center for Performing Arts.
There are three Hop On and Hop off routes for Washington which you can choose from, depending on what you think suits your needs the best. These are:
- The Red Route: The introductory route to the city, this tour explores all the places which represent Washington as the capital of the nation. These places include The White House, the Air and Space Museum, Washington Monument, Jefferson Memorial, US Capitol, FDR Memorial, Ford's Theatre and the Lincoln Memorial to name a select few.
- The Yellow Route: This route takes you through to the heart of the historic city, before taking you out to explore the charming Georgetown and Washington National Cathedral
• The Blue Route: Takes you back in time with a trip to the Holocaust Museum just across the Potomac River to the famed Pentagon along with the Arlington National Cemetery.
Book this tour online now via Viator and get their low price guarantee!