Paris Double Decker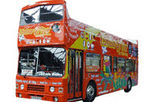 See the city of wonder at your own leisure, through the Hop On and Off tour. The tour takes you around the romantic city of Paris through four different interconnected routes, which ensure that you make the most out of your visit to Paris, and get to see all that it has to offer. Drive along the cobbled streets along the Left Bank and take in the Napoleonic majesty of the Ecole Militaire.
Best of all, you get to see the iconic Eiffel Tower, the very symbol of France itself. Paris has enough intrigue to cater to all palettes, whether you are seeking knowledge, history, romance, fashion an adventure or just some fabulous shopping!
You can Hop On and Off at any stop in the tour's strategically planned itinerary, as the four tour routes are all connected to each other, you can plan your own tour based on the locations all four of the routes have to offer, according to what interests you the most to make the best out of your time in Paris, as one ticket is valid for all of the routes being offered. These routes include:
Paris Grand Tour: A two hour long tour, you can take this route to visit the highlights of Paris, which includes visits to places such as the Madeleine, the Opera and the best art museum in the world, the world famous Louvre. This tour will also take you to the renown Champs-Elysees where you can find the best shops, cafes and restaurants in Paris, along with Musee' du Orsay, the Saint-Germain-des-Pres, the Notre-Dame Cathedral, the iconic Arc de Triomphe and of course the iconic Eiffel Tower.
Bastille-Bercy: This tour lasts for an hour, with a bus arriving at an interval of thirty minutes from each stop. This tour includes visits to the Notre-Dame Cathedral with its majestic architecture, its battlements and gargoyles and the bell tower. Other stops include Saint Paul, Bastille, Gare d'Austerlitz, Parc de Bercy and Gare de Lyon.
Monmartre- Grands Boulevards: Another hour long tour, you can catch the bus departing after every fifteen to twenty minutes stopping at places like the Gare du Nord, Grands Boulevards, the Funiculaire de Montmartre and the Gare de l'Est.
Montparnasse- Saint Germain:Â  a sixty minute tour, with buses leaving at twenty minute intervals, this tour covers the Observatoire, the Catacombes, the Invalides, Jardin du Luxembourg and Saint Germain-des-pres.
Book this tour online now via Viator and get their low price guarantee!