Oslo Double Decker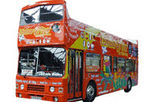 Oslo is one of the most interesting places in Scandinavia, with plenty of sightseeing and pleasant weather which makes it a perfect city to tour on an open top double-decker bus. The bus has a transparent plastic top that gets pulled up whenever it rains to ensure the smooth running of your tour, that you can enjoy come rain or shine!
The tour is scheduled to take you to all the places which you can view from the top of the bus, stopping strategically at locations, which leaves you free to hop on and off at your leisure so that you can explore Oslo first hand. The tour is accompanied by interesting recorded commentary in English, making this the most effective way to view the various sites around Oslo, especially if you want to get the most out of your visit on limited time and budget.
You have the freedom to hop on and off whenever you want as there are ten stops on the tour, which is about ninety minutes long. You can catch a bus at an interval of thirty minutes from each stop, because your ticket is valid for the entire day once you utilize it.
Oslo is the oldest of all Scandinavian capitals, and it also gets the most sun throughout the year. Founded by Harald Hadrade in the eleventh century, it stands amidst majestic mountains at the head of a hundred kilometer fjord. The tour involves spots like the Akershus Fortress and the Viking Ship Museum which really gives you a feel of the ancient Nordic ways upon your visit there.
Some important stops on the tour include the Norwegian Folk Museum as well, along with the kon Tiki and the Fram Polar Ship. Some highlights of the tour include:
Akershus Fortress: This is a medieval castle originally built for the safeguarding of Oslo, and historically has also been used as a prison.
Vigelandsparken: This is a unique exhibit which has statues constructed mainly from stone or bronze and is awe-aspiring to those who view them. The Monolitten is a tremendous seventeen meter piece which is the major tourist attraction of this place, making Vigeland Park a must-see stop on the tour.
The tour includes stops to the city's ferry terminals and cruise terminals, where you can see some truly majestic boats adorning Oslo's harbor, which your Hop On and Off Tour will visit along with many other interesting spots around the city.
Book this tour online now via Viator and get their low price guarantee!