Chester Double Decker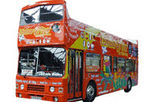 Chester was founded in 79 AD by the Roman Lego II Adiutrix, while the Emperor Vespasian was still ruling. Originally meant to be a Roman Fort or 'Castrum', Chester has four main roads which follow routes that were laid out over 2000 years ago. These roads are called Eastgate, Northgate, Watergate and Bridge.
Chester is richer than all other cities in Britain when it comes to archeological artifacts and architectural masterpieces, due its famed Walled City on the River Dee. Your tour would happen as described below:
The Chester Sightseeing tour will take you to all of the city's top attractions such as the City Walls and the Cathedral along with the Roman Amphitheatre, plus all the various attractions situated around the city to ensure you have a good time when you visit the city. You can get a true feel of the city and its story as you are driven around the city with a guide who will fill you in about the historical importance of your surroundings.
The Chester Tour has its history connected to River tour. The bus takes you across the Dee through both of the bridges that go over it, such as the Grosvenor and Old Dee bridges. The Groves gives tourists an accessible connection with the river cruises, which are run by Bithell's boats. You have the option to combine your bus ticket to the River Cruise, where you can gloriously sail across the river, watching the magnificent city through a unique perspective.
Your tour would take you to Frodsham Street, where you can satisfy your need to shop, as there are plenty of shops there, enough to contend even the most severe shopaholics. These shops are at the Mall and Grosvenor Shopping centers, and you can also visit the nearby Forum Shopping Center and Markets.
You will have the chance to explore the location of the ancient Amphitheatre, which is where the partially excavated ruins of the huge stone-constructed Roman military still remain. You can get aware about the important history of the city when you visit the award winning Dewa Roman Experience which would take you through several Roman streets, delving into archaeological remains and dealing with old priceless relics in a studio, after which you can disembark at the Grosvenor Street Museum.
Come nighttime, you would be given the opportunity to relax in some of Chester's most fashionable and trendy bars where you can enjoy universally acclaimed cocktails and champagne. You can also have your evening meal a la carte, or visit the city's true ale pubs and comfortable bistros.
For the ultimate form of entertainment in Chester you can go to their clubs which offer live entertainment and bowling. A unique experience might include the evening river cruise, accompanied by fabulous food, music and sights.