Trieste Double Decker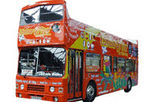 Trieste is a quaint little city in the North East of Italy, which is steeped in interesting history while being surrounded by the best type of beauty nature has to offer. Surrounded by green hills, the aqua sea and glittering white rocks, the city appears to be heaven on earth. Trieste has a serene, Eastern European atmosphere, along with marvelous architecture throughout the city.
Trieste was once the home of the renowned Irish writer James Joyce. Trieste used to be an incredibly prominent and powerful center of politics, along with being known for the literature, culture, music and art that emerged from the city. Today, it is much underrated but those who have visited Trieste are aware of its rich culture and heritage.
Trieste is a city of memories, where you can step onto the streets and feel the nostalgia in the alleyways that spiral into the ancient suburbs, old-world architecture of houses that have not yet been modernized, ruined walls and the wide central streets that now overlap the modern part of town with its sophisticated neo-classical architecture.
The incredible sights that you would get to visit on your tour throughout Trieste would include the following places:
The Museo Rovoltella: A museum which is home to one of Italy's most prized collections from the 19th century, it also has many modern and contemporary art displays which are brilliant and are a treasure to look at.
Museo di Storia: This is a natural history museum in the city, which was established in 1846.
Arte e Orto Lapidario : This is Trieste's museum of history and art, along with Lapidary Garden.
Arco di Riccardo: This is an Augustan gate which was constructed in the Roman walls back in 33 AD, which now stands in Piazzetta Barbacan, where the narrow streets of the old town lie.
San Giusto- This is the cathedral and castle, which is home to the world-famous Miramare Castle, which has stunning chambers, an awe-aspiring throne room, surrounded by breath-taking parks and restored stables making this one of the most beautiful places on the tour.
Book this tour online now via Viator and get their low price guarantee!