Bute Double Decker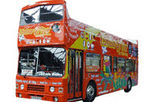 Bute is a scenic island in Scotland which is surrounded by lush scenery, exhibiting some magnificent examples of architecture. Bute is situated in the Firth of Clyde, and has only one town on the island called Rothesay. The only way islanders can access the mainland is through a ferry which runs on the island through the town. There are some small villages around the island as well, known as the Kilchattan Bay, Kingarth and Port Bannatyne.
You're Hop On and Hop Off tour through Bute will take you to the town of Rothesay, which is home to the majestic ruins of the Rothesay Castle, which are said to be from the thirteenth century. This castle is the only castle in Scotland which is circular so it is a must see spot on your double-decker tour through the island.
The best part about touring Bute in a double-decker bus is that you can get a bird's eye view of the picturesque island's backdrop and surroundings, above ground level which makes excellent subject for taking photographs.
Your tour would take you to a lot of interesting places which are a part of the scheduled tour itinerary. You have the option to Hop On or Hop off at any stop that you wish to explore for a longer time, as there is a bus that departs from every stop after an assigned interval of time, so that you are free to explore all the attractions at your own pace, without leaving feeling like you have missed out on something you would regret later.
Some famous spots on the Hop On and Hop Off tour through Scotland include:
The Winter Garden: This is now known as the Isle of Bute Discovery Center
Port Bannatyne: Situated on the east coast of the isle, it is the eastern neighbor of Ardbeg. Por Bannatyne lies to the southern shore of Kames Bay.
Kames Bay: Situated at the east end of a low valley, this is the location of the Kames Castle, which is based towards the inland at the head of Kames Bay. This includes a huge keep which was built back in the 1300s.
Other stops on the tour include Ettrick Bay, along with Scalpsie Bay, and then onwards to Kingarth. The tour will lead you back to Rothesay Pier as it concludes, so that you can make your way back in time to catch the ferry that leads to the mainland from Wemyss Bay.
Book this tour online now via Viator and get their low price guarantee!