Frankfurt Double Decker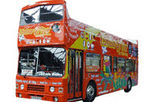 Take the Hop On and Off Tour to explore Frankfurt in a unique and informative way. Visit all of its amazing attractions, which include historical and contemporary sights in a comfortable and relaxed environment where you will be guided by commentary at every step of the way. Stop at Frankfurt's hotspots and landmarks such as the Banking District, the Frankfurt Zoo and the National History Museum.
Frankfurt is the transportation heart of Germany, along with being the financial capital of Continental Europe. Frankfurt is famous for its unique skyline, which is years ahead of its time, and a phenomenal banking district, which are all accessible to your through the Hop On and Hop Off tour on a double-decker. The tour bus will take you to the city center, where you can visit landmarks like the Frankfurt Cathedral and the house of the philosopher Goethe. It also includes a stop at the famous St Paul's church, which is also known as Paulkirche to the locals.
Your tour would allow you to gain a unique perspective of Frankfurt through informative commentary that is conducted from the top of the double-decker bus, which stops at planned stops and gives you the freedom to hop on and off wherever you want during the course of the tour. You can always catch the next bus, which comes at a regular interval of thirty minutes. The bus would take you to all of the most popular sites in Frankfurt such as the Roman Medieval Building and the Natural History museum amongst its nine stops on an hour long tour.
Some other major attractions on the tour include:
Bankenviertel: This is the famous banking district of Frankfurt, which houses most of Germany's main banks' headquarters. This is also where many foreign banks have set up their representation offices. Although it is not an official city district, it has been defined as one for many years. The Bankenviertel is also the place where many of Frankfurt's skyscrapers are situated.
Frankfurt Zoo: Forget lions and tigers and bears! The Frankfurt zoo offers you crocodiles, rhinos and gorillas from Africa. Home to over 4,500 animals in four hundred different species, the Frankfurt Zoo has done its best to recreate the natural habitats the animals are used to, which include many places for shelter, for hiding and for living in species defined social cliques just as they would do if they were in the wild, only these animals are taken better care of!
Book this tour online now via Viator and get their low price guarantee!