Istanbul Double Decker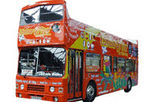 Istanbul holds a unique place in the map of the world, being the only city in the world which is built on two continents, Asia and Europe. Situated on the coast of Bosporus, Istanbul has been guarding prized relics from the all encompassing empires of Rome, Byzantine and Ottoman, enjoying its honored position as the capital, providing a priceless link between the east and west along with being a symbolic time-machine that connects the past with the present.
Istanbul is a city that is the host of many precious art treasures, and architectural works that fills the viewer with wonder and nostalgia. Istanbul has modernized over the years, and now is constantly alive, its history providing the city with substance that you can feel in the air as you walk on the streets, granting you an insight into a melting pot of interesting cultures, which is an experience you can only have in Istanbul.
The tour is conducted on a city tour double-decker bus, which takes you through the city aided with guided commentary to keep you up to speed with what you are viewing. You can also hop on and off at some stops listed in the sixty three stops on the tour. A few of the most exciting sites that the bus will stop at are listed below:
Hagia Sophia: This is a historic museum in present day Istanbul, which was originally constructed as a basilica, which was later converted into a mosque. Hagia Sophia literally means 'Holy Wisdom' and is an architectural masterpiece, a must-see for all tourists visiting Istanbul.
Spice Bazaar: This is the oldest market of Istanbul, and is also the second largest bazaar in all of Istanbul. It started out as the center for spice trade from Istanbul to the world, and is still used for that purpose today. The Spice bazaar today is a wonderful mix of the old and the new, with its traditional architecture and modern shoppers and shops.
Topkapi Palace:  Topkapi means 'canon door', which is a reference to the ancient Byzantine wall situated along the Sea of Marmara. The Topkapi Palace is situated on the ruins of Byzantium on the eastern tip of the Istanbul Peninsula.
Some other spots on the tour include the mystical Byzantium doors, the Blue Mosque and the Hippodrome.
The Hop On and Off stops on the Istanbul tour include Taksim Square, Dolmabahce Palace, and Kumkapi  along with the Hagia Sophia , Old Pera and Edirnekapi.
Book this tour online now via Viator and get their low price guarantee!