Sydney Double Decker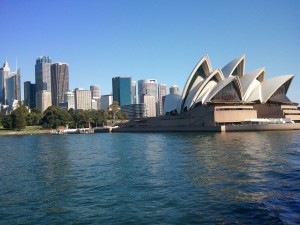 Sydney is arguably the most interesting city in Australia, which is a reflection of an incredible fusion between natural beauty and manmade wonders. The city has so much to offer, from art and culture, to beautiful architectures and scenic marvels, and one of the best ways to view it all is from a double-decker tour bus.
An open-top double-decker bus will take you around the city for 24 or 48 hours, depending upon the ticket you buy, and give you sufficient time to see all the main attractions the city has to offer, as you can hop off at any of their thirty four select stops situated all around the city. The tour would be complemented by engaging commentary that will fill you in on all the riveting details and history attached with each stop. You have the option of staying at a certain stop longer if you want, and you can hop on board for the next stop, because the bus leaves a stop at an interval of twenty minutes each time.
Sydney is constructed about the most picturesque harbor in the world, with gargantuan skyscrapers, phenomenal buildings and exhibits of engineering mastery which leave the viewers awestruck upon first sight. The climate is sunny and clear all around the year so an open-top bus ride is exceptionally enjoyable.
The tour would take you to the famed Sydney Opera House, which is one of the most majestic buildings in the world, so much so that it has become an international symbol that represents Australia to the world. Sited on Bennelong Point which stretches onto the harbor, you can see the skyline of the Sydney Harbor Bridge, which is also on the listed stops on the tour.
Other stops on the tour includes a trip to the magnificent Bondi beach, which as pure white sand and sparkling blue water, the Darling Harbor and the Circular Quay. For people who enjoy sea life, the tour bus also stops at the Sydney Aquarium.
One of the most popular stops on the tour is of The Rocks Markets. It is like a beachfront promenade walk, with shops both local and high end, restaurants and cafes and museums and art galleries. The Rocks also hosts several seasonal events which are celebrated by locals and tourists alike.
Sydney Bus Tour Highlights:
Sydney Opera House
Sydney Harbor Bridge
Bondi Beach
Darling Harbour
Circular Quay
Sydney Aquarium
Town Hall
The Rocks
Book your Sydney and Bondi Hop-on Hop-off Tour from just $35