Milan Double Decker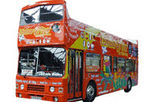 Milan is one of the fashion capitals of the world, and one of Italy's most creative cities. A Hop On and Hop Off tour through Milan is a treat, as you get to choose between two amazing tours that will take you through all the best sights in the city, on top of a double-decker bus.
Traveling above crowd level, you will get a panoramic view of the beautiful city with all of its splendid architecture, as you listen to informative commentary filling you in with the history of your surroundings so that you do not miss out on anything important on your visit to Milan.
You can access both the tours on a single ticket, which travel in different routes. Line A takes you through Milan's Sforzesco's Castle, the Piazza Duomo and the incredible Scala Theatre. This tour lasts for seventy five minutes in its entirety, and buses leave after a period of seventy five minutes from every stop, so that you can hop off at any stop you like and explore to your heart's content.
Line B of the tour takes you to the famous Montenapoleone along with the Cenacolo of Leonardo da Vinci along with many other intriguing stops throughout the ninety minute duration of the tour. A bus departs after an interval of forty-five minutes from each stop, giving you the freedom of exploring the stops at your leisure so that you do not leave feeling like you missed out on something important because of shortage of time.
An extensive list of stops for both of the routes on the Hop On and Hop Off tour of Milan is listed below:
Line A
Castello
Duomo
Manzoni-Scala
Line B
Castello
Triennale
Garibaldi
Repubblica
Stazione Centrale
Buenos Aires
Porta Venezia
Duomo
Manzoni-Scala
These places would give you the true taste of Milano, which is Italy's economical lifeblood, which houses the country's stock market and all of its major business centers. Milano's fashion is impeccable rivaling that of elegant Paris, as the two cities are always at par when it comes to style, class and sophistication.
Book this tour online now via Viator and get their low price guarantee!