Rome Double Decker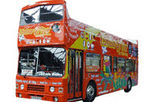 Rome is one of the most fascinating cities on earth, and is by far the best place to visit in Italy. A tour throughout Rome means that you get to be in the center of a city that has shaped the world through its impressive history, art and culture.
The capital of Italy and the fourth largest city in Europe, Rome is awe-aspiring and beautiful. Sightseeing is a real treat as you are immersed in the astounding architecture of the city which is unique to Rome, and symbolizes everything that Rome stands for- beauty, glory and splendor. Time seems to stop in Rome, as you get to see a blend of contemporary and ancient in this bustling metropolis.
The Hop On and Hop Off tour will let you choose from a vast itinerary of exciting stops on your tour, which you can customize to fit the stops that interest you the most, so that you can make the most out of your tour without feeling like you missed out on something major. The Hop On and Hop Off tour of Rome has seventeen amazing stops on its schedule, which cover all of the most beautiful, cultural and quintessential places of the Eternal city.
Some highlights of the tour include the following stops:
Visit the famous Trevi fountain which was created as a tribute to the Roman god Neptune, god of the oceans, who is depicted as riding a chariot being pulled by two giant seahorses. It is said to be the most beautiful fountain in all of Italy.
Explore the historical Colosseum, which once hosted tremendous gladiator battles and mass events in history which is bound to make you nostalgic for the ways of the ancients in Rome.
Visit the majestic Pantheon, the site where two of Italy's kings are interred,  Vittorio Emanuele II and Umberto I. Once the Pantheon was a temple to the ancient Roman Gods, constructed by Agrippa, it is now a church.
See Michelangelo's Piazza del Campidoglio and visit Vatican City where you can see the incredible Swiss Guardsmen.
You cannot visit Rome without sampling scrumptious Italian cuisine. You can try the authentic spaghetti ala Carbonara at the Spamosj Steps, or enjoy a cup of coffee, or gelato as you people watch in Piazza Navona.
If you get tired of sightseeing, you can always go through the native route and watch a Lazio or Roma match taking place at the Olympic Stadium.
Book this tour online now via Viator and get their low price guarantee!