Lisbon Double Decker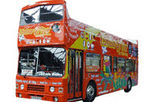 Lisbon is a city that exists in harmonies and dynamics, unique in every way. Therefore, the Hop On and Off tour offered for Lisbon offers you the unique choice between two routes between the historical and contemporary parts of Lisbon, which you can customize according to your own preferences.
You have the freedom to leisurely explore what the city has to offer you at your own pace, visiting incredible places like the cultural hub of Belem, the and the Marques do Pombal square along with the Lisbon Oceanarium, which was constructed in 1998 for international exhibition and the famous Tower Vasco De Gama.
This is made possible on your Hop On and Off tour, as the double-decker buses depart at every half an hour at each of the allotted spots, so you can choose where you want to visit, by getting on or off at any chosen spot, whenever and as many times as you prefer. As your ticket has validity to cover sights on both of the routes offered, you can alternate between the two tours if you want, getting the most out of your Hop On and Off Tour ticket.
The Lisbon Oceanarium is one of the highlights of the tour, as it houses a vast amount of marine species, which include various exotic fish, mammals, birds and cnidarians, along with marine organisms which combined make up a total of sixteen thousand individual living examples of four hundred and fifty different species of marine life.
The Vasco da Gama Tower is also a piece of architectural wonder that you can enjoy. A hundred and forty five meter lattice tower, it is constructed over the Tagus river, named after the famous Portugese discoverer Vasco da Gama, the original European to arrive in India by ship back in 1949.
You will be taken across Lisbon in an air-conditioned double-decker bus, on a tour which will be accompanied by informed audio commentary, which is pre-recorded with interesting facts about the city and the tour that you are taking, making sure that you get the most out of your tour of Lisbon.
Book this tour online now via Viator and get their low price guarantee!