Naples Double Decker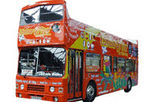 Explore the beautiful city of Naples in romantic Italy, from a unique perspective that you can only get when you travel above crowd level- on top of a double-decker bus!
The Hop On and Hop Off tour will allow you to tour Naples through an itinerary of thirty two different stops all around Naples' best tourist attractions, which you can explore to your heart's content before you go to the next attraction of your interest. As your ticket is valid for 24 hours, you can explore the beauty of sights such as Via St Lucia, Piazza Vittoria, Mergellina and many others.
With amazing views from the bus stop, you can enjoy the carefully planned out stops, paired with an informative commentary that would keep you up to speed with your surroundings and their history, making you get the most out of your tour around Naples
There are three routes the Hop On and Off tour takes, these tours involve eleven stops on the Art route, and twelve stops on the Naples Bay route. The third route is the San Marino route, which includes nine stops. All of the routes connect at the first stop, which is the Piazza Municipo and are seventy five minute long in duration.
The three tours include the following stops:
Tour A- The Art Route:Â 
Piazza Municipio
Piazza del Gesu
Piazza Dante
Museo Archeologico
Museo di Capodimonte
Catacombe S.Gennaro
Bellini
Madre
Duomo
Piazza Bovio/Universita
Tour B- Naples Bay Route:
Piazza Municipo
Santa Lucia
Piazza Vittoria
Villa Pignatelli
Mergellina
Posillipo
Capo Posillipo
Parco Virgiliano
Via Petrarca
Via Caracciolo/Mergellina
Castel dell'Ovo/Via Parthenope
Via Acton/Porto
Tour C- San Marino Route:
Piazza Municipo
Via S. Lucia
Piazza del Martiri
PAN
Piazza Amedeo
Piazza Vanvitelli
Largo San Martino
Via Salvator Rosa
Piazza Dante
You can access any tour on a single ticket, as you plan out your day to tour Naples. You can catch the tour-bus from any stop once you are done exploring which will promptly take you to the next stop that you choose to visit, ensuring that you visit all of your places of interest in Naples.
Book this tour online now via Viator and get their low price guarantee!