London Double Decker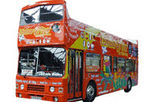 Welcome to London Double Deck Tour Buses. They provide more than just a great way to travel around the UK capital the double decker bus is still a strong part of the London transport network. The benefit of the London double decker tour buses is that they offer you a chance to experience in a comfortable and secure environment all the sounds and experiences London has to offer.
The city of London has made the big red double-decker bus one of its representations. Therefore, it is perfect that you tour the amazing city on the very red double-decker that the city has made its own, as you travel through all the amazing places London has to offer, there would never be a dull moment on your Hop On and Hop Off tour through London. The best part about touring London on a bus is that you can travel above the basic crowd level, and view the magical sights and sounds aided by live commentary by a skilled guide who tells you everything you need to know about your surroundings.
You can also join the Hop On and Hop Off tour on the Thames River Cruise on your bus ticket, which is absolutely free! The Hop On and Off tour also lets you join three walking tours, which are also free, which include a Change of the Guard walk, a Jack the Ripper walk, which is incredibly interesting and scary as your guide walks you through the life of the infamous serial killer in the world along with the latest, Royal wedding tour which lets you relive the best moments of Prince William and Kate Middleton's dream wedding.
Many of the more popular Double Deck Tour Buses include free walking tours
Changing of the Guard (10.30 from the Original London Visitor Centre, Trafalgar Square)
Rock n' Roll (13.00 from the Orignal London Visitor Centre)
Jack the Ripper (15.30 from our stop at Tower of London/Tower Hill)
Also don't forget that your Double Deck Tour pass also includes free Thames river cruise but a few highlights of the original Hop On and Off Tour through London include:
Piccadilly Circus: Contrary to common misconception, the Piccadilly Circus is not an actual circus, it is actually a major shopping district in London, named in context of the word "circus" in Latin, which literally means an open round space at the junction of streets.
Shakespeare's Globe: The Shakespeare's globe now is what used to be the Globe Theatre back in the times of Shakespeare in the Elizabethan age, a playhouse which hosted performances of the very first plays written by William Shakespeare.
Hyde Park: Hyde Park has been the site of many momentous historical occasions, which first served as a hunting ground for King Henry VIII, the place of sanctuary for Londoners back in 1665 when the great plague spread across Europe and was the spot for the celebration of Queen Victoria's silver jubilee on the throne. Hyde Park is hold to amazing events all year long, such as massive benefit concerts and seasonal shows such as Winter Wonderland.
Tower of London: A visit to the Tower of London is a tour within a tour. Brimming with mystique, history and enchantment it is supposed to be one of the most severely haunted sights in Britain, being host to constant executions of Royals throughout time.
London City Tourist Higlights
Madame Tussaud's
Piccadilly Circus
London Eye
Covent Garden
St. Paul's Cathedral
Leicester Square
Trafalgar Square
Shakespeare's Globe
Westminster Abbey
Downing Street
Big Ben and Parliament
Tower Bridge
Tower of London
Buckingham Palace
London Double Deck Tour Bus Departure Points
Start Point 1: Piccadilly Circus (yellow/red/green/blue route) – Yellow route from Whitcomb Street, Red route from Haymarket, Green and Blue route from Rupert Street.
Start Point 2: Trafalgar Square – (yellow/red/green). Yellow and Red route from Trafalgar Square northside, Green route from Northumberland Avenue.
Start Point 3: Embankment Station (red/yellow route) – beside River Thames opp. tube station.
Start Point 4: Victoria and Grosvenor Gardens (red/yellow route) – Buckingham Palace Road
Start Point 5: Marble Arch (red/yellow route) – Park Lane, subway exit 3 "Speakers Corner".
Tour Bus Departure Time:Â Departs approximately every 15-20 minutes (8:30am to 5:00pm).
Tour Bus Pass Duration:Â A full 24 hours from time of first use
Tour Bus Return details:Â All tickets are valid for 24 hours from time of first use
Book this tour online now via Viator and get their low price guarantee!