New York Double Decker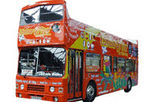 There is little compared to the feeling you get when you are touring the best city in the world, New York in the most traditional way possible- from the top of a big bright double-decker tour bus! Visit all of New York's finest sights and neighborhoods from Harlem to East Village, you can feel the magical contrasts that the city has to offer with its electric atmosphere and bustling city life.
You can create your own itinerary for your Hop On and Off tour throughout New York City, where you can select the places where you want to go to the most, so that you can make the most out of the city that never sleeps, accompanied by informed tour guides that will tell you about everything that the city has to offer you.
If you choose the downtown loop for your ticket you can visit places down the roughest and most inspiring neighborhoods in town. Visit Harlem and Brooklyn on the night tour, which is an amazing way to make your way through to the city that never sleeps. The lights alone are inspiring, as you go through all the attractions the big apple has to offer, such as cruises, meals, museums and its street culture.
You can choose the following loops for your Hop On and Off tour throughout New York City:
Uptown Loop: This loop includes stops like the famous Central Park, the Lincoln Center, the Apollo Theatre, the fashion central Fifth Avenue, the Harlem Market the Guggenheim and the Metropolitan museum and Grant's tomb to name a select few.
Night Tour: This tour takes you to twenty different sites, which starts from Central Park and goes through the brilliant Times Square, to the Empire State Building to the Greenwich Village, the funky SoHo neighborhood to the fabulous Chinatown and Little Italy. The night tour lets you see New York in the way it's meant to be seen; glowing in all its glory!
Brooklyn Loop: This tour takes you through the Botanic Gardens down to the Brooklyn Museum of Art. You can get into the true Williamsburg spirit once you visit the Fulton mall and the Antique Furniture district on this tour.
If you visit New York City during the holiday season, you can choose to go on the Holiday Lights Tour which replaces the Night Tour during that time. This tour would then take you down midtown to show you the awesome holiday decorations throughout the city, including the gorgeous window displays down New York's finest department stores like the majestic three B's: Bergdorf's, Bendel's and Barney's.
Book this tour online now via Viator and get their low price guarantee!