Cardiff Double Decker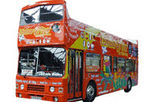 The United Kingdom has made the big red double-decker bus one of its representations. Therefore, it is perfect that you tour the amazing city on the very red double-decker that the city has made its own, as you travel through all the amazing places Cardiff has to offer, there would never be a dull moment on your Hop On and Hop Off tour through Cardiff.
The best part about touring Cardiff on a bus is that you can travel above the basic crowd level, and view the magical sights and sounds aided by informative recorded commentary by expert guides who tells you everything you need to know about your surroundings.
The Hop On and Hop off tour allows you to get on and off the bus at any stop that you like, leaving you free to explore whichever place you choose at your own pace as the bus stops at each stop after a period of every thirty for sixty minutes while you make your way through the eleven amazing stops on the Cardiff tour itinerary. With your ticket being valid for twenty four hours after initial use, you can use this as a ticket to familiarize yourself with England's city of Roald Dahl.
You will always be greeted with a warm Croeso as you tour around this city of Wales, while you learn about the development of Cardiff, its exemplary civic buildings along with the newly constructed Bay area and the brand new Millennium Stadium.
The stops on the Cardiff Hop On and Hop Off bus tour include some of the highlights of the city which include the following stops:
Castle St
Gorsedd Gardens Rd
Queen St
Hayesbridge Rd
NCM
Roald Dahl Place
Mermaid Quay
Techniquest
St David's Hotel and Spa
Craft in the Bay
St Mary St
Millennium Stadium
Each of the stops on the tour is full of their own unique history, and make for truly amazing scrapbook material, as you can snap some marvelous photographs at each of these locations, which are a combination of old world glory and modern innovation which makes Cardiff one of the most interesting city in Wales.
Book this tour online now via Viator and get their low price guarantee!