Turin Double Decker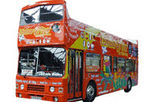 Visit the beautiful city of Turin Italy, through the amazing Hop On and Hop Off tour which provides you with unique insight into the city, which you simply cannot get if you tour by yourself. The Hop and Hop Off tour takes you through the city in a safe and relaxed environment, complemented by informed commentary that helps you discover Turin in the best way possible.
The Hop On and Off tour takes you around the city in an open top double-decker bus, which has nine planned stops in its itinerary. You can get off and explore any stop you want at your own leisure whenever you want; alternating between three different bus routes that make sure you make the most out of your visit to beautiful Turin.
With amazing views from the bus stop, you can enjoy the carefully planned out stops that accentuate the beauty of the country, its heritage, culture, traditions and their history, making you get the most out of your tour around Turin.
The nine stops on the Hop On and Hop Off tour take you through three alternate routes, Line A, Line B and the combination of both. Between these three tours, you have a chance to explore the city of Turin in its entirety, and enjoy every aspect that the charming town has to offer. You can check out the Mole Antonellina, along with the Parco del Valentino, the Piazza San Carlo and various other tourist attractions. Both the routes are connected by the first stop, which is Piazza Castello, and last for an entire hour.
You can upgrade your ticket to avail the combination tour, so that you do not miss a single thing while you are touring Turin, checking off all of Turin's must see locales while you are visiting there. This process increases the duration of your tour by another hour.
The nine stops on the Hop On and Hop Off tour of Turin include the following:
Tour A:

Piazza Castello
Mole Antonellina
Villa della Regina
Monte dei Cappuccini
Borgo Medievale
Parco del Valentino
Via Roma
Parco Archeologico
Piazza San Carlo
Piazza Castello
Museo Scienze Naturali
Parco del Valentino
Museo dell'Automobile
Pinacoteca Agnelli-Lingotto-Arco Olimpico
Stadio Olimpico e Palaolimpico
Officine Grandi Riparazioni
GAM – Corso Vittorio Emanuele II
Mastio della Cittadella
Book this tour online now via Viator and get their low price guarantee!