Toronto Double Decker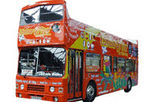 Explore Toronto at your pace, by taking in the amazing sights, sounds and history of the city, which is a melting pot of cultures within Canada. Take the Hop On and Hop Off tour in Toronto city, which allows you to sightsee with the aid of experienced guides and drivers, that take you safely around all the hotspots providing you with expert insight about your surroundings, as you see the major attractions of the city with its huge shopping areas and one of a kind cultural districts.
The Hop On and Hop Off tour in Toronto goes in a full circle for a total of six hours, which stops near all the main hotels downtown. You can use you ticket for three touring days, which gives you enough time to visit all of the stops on the tour at your own pace, whenever you want. These stops include the Casa Loma and the CN Tower.
The tour takes the North/South Loop which includes the following locations:
Yorkville: The trendiest place in Toronto famous for its high end retail stores, restaurants and the first hotel in Canada that got five stars. The high end boutiques on Yorkville include Hermes, Chanel, Cole Haan, Vera Wang, Escada, Cartier, Rolls-Royce Motor Cars, Bang and Olufsen, Betsey Johnson, Holt Renfrew, Tiffany and Co, Prada, Burberry, Gucci, MAC , Ferrari, Maserati, Bulgari, Birks, Coach, Swarovski and many others.
Casa Loma: Canada's most majestic castle, the Casa Loma is a symbol of the history of European magnificence in architecture. Previously the home of Canadian financier, Sir Henry Pellatt, the Casa Loma has plenty of gorgeous suits, mysterious secret passages, an eight hundred foot tunnel, plus the regulation towers, stables and grounds that come with every castle. The five acre garden estate surrounding the Casa Loma is a magical sight to behold.
Other stops on the tour include the hockey hall of fame, Air Canada Center, the Harbourfront, the Royal Ontario Museum, the Bata Shoe Museum, Yonge Street, Maple Leaf gardens and the CN tower.
Your tour would include live commentary from experienced guides, and the tour ticket would cover all local taxes required to continue the tour.
Book this tour online now via Viator and get their low price guarantee!