Florence Double Decker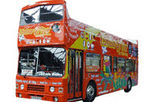 Florence is one of the most romantic cities of Italy, known for to be the jewel city of the Renaissance. It lies in the middle of the mountain chain of the Appenine, amidst the fertile valley that are host to Tuscan's luscious vineyards and olive groves.
Florence is full of art and culture of every kind.  The art galleries and museums of Florence are world renowned and Florence is home to priceless works of art such as the David of Michelangelo, the Venus of Botticelli and the awesome Duomo, with its brilliant marble façade. Art in Florence is not confined to fine arts and statues alone. Florence is home to some of the most fabulous boutiques and designers in the entire world, along with tiny craft shops which make unique items and food connoisseurs that create gelato with every flavor imaginable, which cannot be paralleled anywhere else in the world.
There are two routes available for the Florence tour, one is the Florence Fiesole Tour and the other is the Florence City Tour. The Florence Fiesole Tour progresses as listed:
This is a two hour long tour, with tour buses departing at an interval of sixty minutes from each allotted stop. This tour goes throughout the art and cultural stops throughout Florence, with museums being a major highlight. It goes to the city of Fiesole which is the famous Etruscan city situated on top of a hill three kilometers away from central Florence. Fiesole offers a vast view of the entire city of Florence, which is excellent for photography buffs. The Fiesole tour also allows tourists to visit Florence's best museums and churches along with the opportunity to trek or walk, down the country paths.
The Florence city tour is another tour that makes different stops than the Fiesole tour:
This tour lasts for an hour, with the tour bus departing at thirty minute intervals from each stop. This tour takes you within the city of Florence to some of the "can't miss" hotspots in the city. The Florence City tour follows a sixteen kilometer tour that goes through the city stopping at a choice fifteen locations. This tour starts at the Santa Maria Novella Station and ends at the Piazzale Michelangelo.
Book this tour online now via Viator and get their low price guarantee!