San Francisco Double Decker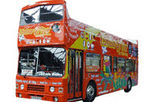 San Francisco is a city that famous for peace and love. It holds a unique place in the hearts of many involved in the hippie/ bohemian movement back in the 60s, and in many ways is still holds traces of the nostalgic summer of love which made bohemian culture famous throughout the world, making San Francisco a place for pilgrimage for all of those who wanted to witness first-hand the feel of the movement and the liberal attitudes shared by the people over there.
San Francisco has a lot to offer and it is nearly impossible to see all of the sights on a single visit. However, the Hop On and Off bus tour helps you visit a series of places strategically placed throughout the city to make sure that you make the most out of your trip there. Some of the highlights of your tour include the following world-famous places:
The Golden Gate Bridge: This momentous bridge is the symbol of San Francisco, which represents the city's fabulous skyline. You can have the best views of Alcatraz Island from the bridge, including the entrance of the San Francisco Bay.
Fisherman's Wharf: One of the oldest established places in California, the Fisherman's Wharf is home to San Francisco's fishing fleet. The wharf was home to a lot of old factories and warehouses which have now been renovated into high-end shops and restaurants.
Chinatown Gate: Home to the famous "Dragon Gate" which gives you entry into San Francisco's Chinatown, along with its own little French Quarter.
Alcatraz Landing: The location of the infamous Alcatraz prison, on its own island which is an awe-aspiring sight to behold.
The Walt Disney Family Museum: Celebrates the achievements in entertainment that Disney has enjoyed over the years, it takes you through all the inventions of Walt Disney, the man responsible for spreading Disney magic around the world. The museum is home to original sketches of famous cartoons, film clips and it's very own miniature Disneyland.
Haight-Ashbury: The Haight-Ashbury district is one of the most interesting places in San Francisco. It is here where you can get the true feel of the bohemian culture that once existed in this city, through a gaggle of eccentric residents which include artists, musicians, writers and people with other creative professions. It has unique shops, and avant-garde cafes, bars and restaurants making it one of the most fascinating stops on the tour. The Haight-Ashbury was the spot where a lot of hippie movements originated from in the 1960s.
You would be in an air-conditioned double-decker bus, which would guard you against the heat, as temperature in the summer tends to get quite high, which you can enjoy on your hour long tour.
Book this tour online now via Viator and get their low price guarantee!