Edinburgh Double Decker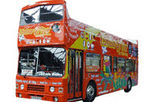 The historical city of Edinburgh is one of the major cities you can visit for the purpose of sight-seeing in the entire United Kingdom. This Scottish wonder is built upon seven gracefully sloping hills, lending it a beautiful landscape, which looks beautiful day and night, lending the city a dramatic feel which perfectly complements the nature of the Scots, their history and their culture- something the city of Edinburgh is steeped deeply in.
The Edinburgh double-decker can provide you with the best views, especially from the top of the bus. The bus stops at strategized stops, which host Edinburgh's best attractions paired with interesting commentary from the tour guide present on the bus. This tour allows you hop in and out of the bus as many times as you please during the hour long ride, in any of the bus' twenty four stops, for twenty minutes, as the bus departs at twenty minutes from all of these stops.
A few of the stops that the Hop On and Off Edinburgh tour bus stops at include the Scott Monument, the Royal Infirmary and McEwan Hall to name a select few. If you are a fan of history, than this tour is perfect for you as it stops at the famed Museum of Scotland, National gallery, Burns Monument and the City Observatory amongst its various strategized locations.
If you want to get a feel of old Scotland, you can visit St John's Church, St Andrew's house and St George's and St Andrew's Church, which are constructed using beautiful architecture, such as St Andrew's Church being modeled almost exactly after Bernini's design for the St Andrew's Church in Rome.
The best parts of the Edinburgh hop on and off bus tour are the stops at Edinburgh Castle, which is a magnificent fortress that is set proudly on top of the volcanic Castle Rock making it a wonder to explore. The tour also includes stops at The Palace of Holyrood House, the momentous Royal Mile and Our Dynamic Earth, which truly make the trip remarkable, memorable and adventurous.
Book this tour online now via Viator and get their low price guarantee!