Copenhagen Double Decker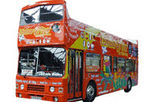 Copenhagen has been called Denmark's city of wonder, with its picturesque towns, harbors and stunning architecture. It is the city of Hans Christian Anderson, who spun many beautiful tales about the city and its wonders, through tales like The Little Mermaid, an homage to which sits on the capital's harbor today, gazing out to sea, which is the main attraction of the Hop On and Off Tour throughout Copenhagen.
The Hop On and Off tour captures Copenhagen's culture and vibrancy perfectly, leaving you feeling satisfied as it touches upon the city's most amazing wonders, giving you enough time to explore at your leisure, hopping in and out of your tour bus.
The tour bus would allow you to get a bird's eye view of the entrancing architecture of the city, with its swirling towers and turrets, with each monument telling its own story, in a manner of Hans Christian Anderson. Upon visiting the Little Mermaid on the shore, you can ask for forgiveness of your sins as tradition stands in Copenhagen, based on times of the old, when sailors visiting the harbor used to ask her for forgiveness for their sins while they were docked at the port.
The tour is an hour long and takes three different routes, stopping regularly at each of the listed stops for twenty-four hours, which is the validity period of your ticket.
The tour has amazing attractions and the highlights include the Amalienborg Palace, The Little Mermaid and the Rosenberg Castle. Other attractions on the tour include:
Axeltov/Tivoli: This is a historic site in Copenhagen, which once was comprised entirely of cornfields and meadows built outside the ramparts and fortification of the city, having the major roads which lead to the main gateway in town.
Gustav Kirken: The church of Gustav is one of the biggest churches in Copenhagen, and is a part of the church of Sweden Abroad, which serves as a church of Swedish congregation in Copenhagen, Denmark. Built in 1807, the church of Gustav was designed by Theodor Walin, and is named after Swedish King, Gustaf V.
Højbro Plads: This is the name of one of the main squares in the city, which is a must see for every tourist, who can walk the historic pedestrian zone, which is called strøget.
The Hop On and Off Tour throughout Copenhagen would begin at City Hall Square, and you can get off at any of the thirty stops on the tour, as a shuttle service runs from the cruise terminals, meeting the main routes for your convenience. The entire tour would be excellent from an open top bus; hence it is recommended that you choose one for your journey.
Book this tour online now via Viator and get their low price guarantee!