Glasgow Double Decker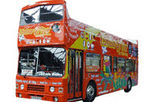 Glasgow is city that Scotland is most proud of, and rightfully so. It is amongst the most happening places in Europe, which is now Scotland's culture capital, where modernity stands out amongst the old Scottish culture strongly infused into the city. Glasgow is an architectural wonder, home to some of the best examples of Victorian architecture today. Glasgow is host to some of the most famous art collections in the world, and enjoys the title of being the best shopping destination in United Kingdom, save London.
One of the best ways to view Glasgow is from an open top double-decker bus, which will give you a bird's eye view of all what Glasgow has to offer. The bus stops at strategic locations all across the city to make sure that you make the most out of your tour.
You have the option of hopping on and off the tour bus whenever you please, as there are a total of twenty one stops on the entire tour, and an uninterrupted route takes an estimated eighty minutes to complete its round. The bus arrives on an interval of fifteen minutes at each top, so you can just hop on whichever ride suits your tour the best. Â Here are the highlighted stops of the tours which will give you a better idea of what it actually is about:
The stops on the hop on and off tour include several historical institutions for fine and performing arts, such as the Piping Center Theatre, Theatre Royal, Pavilion Theatre and the RS Academy for Music and Drama, where you can go to get a true feel of the talent Glasgow has to offer to the world.
If you are an architecture buff, you will enjoy stops like St. Vincent Place, which includes the Lighthouse and Princes Square Buchanan Galleries, along with the Glasgow Cathedral, which includes St Mungo Museum and Provands Lordship.
The Byres Road Botanical Gardens are one of the most beautiful places in all of Glasgow. They are a must see for anyone who has come to visit Scotland and wants to witness it in all its glory and splendor.
Book this tour online now via Viator and get their low price guarantee!