Pisa Double Decker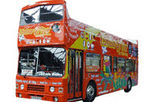 Visit the beautiful city of Pisa in Italy, through the amazing Hop On and Hop Off tour which provides you with unique insight into the city, which you simply cannot get if you tour by yourself. The Hop and Hop Off tour takes you through the city in a safe and relaxed environment, complemented by informed commentary that helps you discover Pisa in the best way possible.
The Hop On and Off tour takes you around the city in an open top double-decker bus, which has sixteen planned stops in its itinerary. You can get off and explore any stop you want at your own leisure whenever you want; alternating between two different bus routes that make sure you make the most out of your visit to beautiful Pisa
You will get to visit one of the wonders of the world, the famous Leaning Tower of Pisa, which is the symbol of the city and in effect the country as well. The Leaning Tower of Pisa is only one third of the triad of Rome like splendors, based on the lush green carpet of Piazza dei Miracoli, which rivals the splendor of Venice's famous Piazza San Marco for the position of Italy's most unforgettable square.
The tour would take you on to the right adjacent to the awesome Tower, situated in Piazza dei Miracoli, and will progress on to visit the Historical Center of Pisa, complete with its Lungami, the fabled streets based along Arno river along with a trip to the beautiful Parco di San Rossore, which is situated just a few miles outside town.
The two tours that would take you along Pisa are listed below:
Tour A- This is the city tour, which lasts for forty five minutes, with a bus departure interval of sixty minutes from each stop. The highlights of this tour include the Lugarno Mediceo, the Via Crispi along with the Lungamo Simonelli.
Tour B: This is known as the Park Tour, Tenuta di San Rossore, which is the line B tour on the Hop On and Off schedule. Also forty five minutes long with sixty minute bus departures, this tour takes you to the must-see sites around Pisa, which include Carlo Cammeo and Viale delle Cascine.
The entire itinerary of the Pisa tour includes:
Piazza Arcivescovado
Via Corsica
Lungarno Pacinotti
Lungarno Mediceo
Lungarno Fibonacci
Lungarno Gambacorti
Lungarno Sonnino
Viale Gramsci
Via Crispi
Lungarno Simonelli
Via Carlo Cameo
Book this tour online now via Viator and get their low price guarantee!