Contiki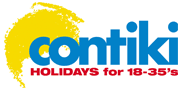 Contiki is a travel company that believes in making the best of life's beautiful moments by making the memories of each unique travel destination count.
Some of the key benefits of Contiki include:
Flexible departure dates and hundreds of destinations to visit.
Specifically designed for 18-35s only, so like-minded travellers to share the fun with.
Great value for your money.
Contiki has carved its niche in the industry by targeting 18- 35 year olds only
Established in 1962, Contiki has more than 5 decades of experience in the travel industry. The group was founded to ensure that travellers grasp the precious moments during their adventures. Initially targeted at young adults with zeal to explore and see the world, the travel outfit has evolved to target 18-35 year olds who glow in the passion of sharing the thrill of adventure. The mantra at Contiki is to create memories that will last a lifetime.
Contiki offers close to 300 trips across the globe, with diverse departure dates for increased flexibility. This not only allows you to choose where you would like to go, it also enables you to choose the days which work best with your schedule. The trips list shows destinations in different places including in the USA, Canada, Australia, Asia, Latin America and New Zealand. Wherever your dream destination is, you can be sure Contiki has you covered.
The perks of Contiki Trips
Contiki trips can best be described as the best trips you will ever get worldwide. The simple reason for this is that the travel company caters for all your logistics, undoubtedly one of the travel nightmares for most people. So, once you have booked your trip, you can forget about the hassle of finding accommodation, scouting for the best locations to dine and wine in foreign countries and simply enjoy seamless travel.
If you find you have forgotten your guidebook, there is no need to fret. The amazing travel team assigned to you includes well-versed tour managers, experienced drivers and local guides born and bred in the destination of your choice. The latter is important to travelers who use Contiki because at the core of these adventures is the need to identify with and respect different cultural norms and nuances across the world.
When you need to go sightseeing, you can be certain that you get access to some of your destination's most iconic attractions, whether it is the Eiffel Tower in Paris, the Sydney Opera House or the Colosseum in Rome. This is great value for money for anyone who would like the best travel deals.
The convenience of Contiki, when compared to traveling solo certainly outweighs the cost of the latter. Look out for deals on offer when you visit the firm's official website. Book early and enjoy amazing discounts to help you save up more bucks for your adventures.
Alternatively, grab any of the last minute deals with which you can save so much more. If you love to travel at the spur of the moment, the year-long deals for multiple trips, group travel, and second-time bookings with Contiki are a valuable deal. Traveling the world just got easier!!
Contiki operates it's bus tours across the world but below are their most popular destinations, you can click the links below get visit and find out more:
Top Contiki Tours
If you are unsure of what Contiki Europe or Contiki Asia tour to pick why don't you select one of their top 3
Some of the activities available when you travel with Contiki
Spanish Flamenco Show
Gondola ride in Venice, Italy
Classical Mozart concert in Vienna, Austria
Sailing on San Francisco Bay
Helicopter flight over the Grand Canyon
Las Vegas Cabaret Show
Where you stay with Contiki?
There is a variety of accommodation choices depending on the style of tour your choose and where you are travelling, so there are three options are Time Out Tour, Concept Tours & Contiki Camping Tours
Time Out tours stay in hotels with the option of single, twin or triple share accommodation choices
Concept tours utilise a range of Contiki's unique Special Stopovers such as well-appointed tourist class hotels & comfortable campsite cabins
Contiki Camping tours supply you with a comfy air mattress and a twin share tent at well equipped European campsites.