Verona Double Decker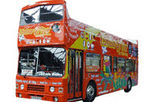 Visit the beautiful city of Verona in Italy, through the amazing Hop On and Hop Off tour which provides you with unique insight into the city, which you simply cannot get if you tour by yourself. The Hop and Hop Off tour takes you through the city in a safe and relaxed environment, complemented by informed commentary that helps you discover Verona in the best way possible.
The Hop On and Off tour takes you around the city in an open top double-decker bus, which has sixteen planned stops in its itinerary. You can get off and explore any stop you want at your own leisure whenever you want; alternating between two different bus routes that make sure you make the most out of your visit to beautiful Verona.
The views from the top of the bus offer you the best sights from the city and all of Verona's top attractions, which include places like the Basilica San Zeno Castelveccio, the Teatro Romano and the FS Prota Nuova. The routes also include the Piazza Bra in its sixty minute long duration. The stops on the tour include some of the following highlights:
Piazza Bra: This is the largest piazza in Verona, believed by some to be the largest piazza in the entire country. Piazza Bra, also sometimes known as Bra, is home to multiple cafes and restaurants in the city, and houses several important buildings of Verona. It is also the location of the Verona Arena, which was an amphitheatre constructed over two thousand years ago. Now it is thriving as a globally famous musical venue, which hosts regular operas and contemporary musical concerts.
Porta Leoni:Â  An ancient Roman gate, the Porta Leoni was constructed during the times of the Roman Republic , and reconstructed during the imperial times, connecting to the road which leads to Bologna to Aquileia. The Porta Leoni is a contemporary Italian name; its original Roman is still unknown. It went through several transformations through the ages, in the medieval times it was known as Porta San Fermo because of the church it was located near, while during the Renaissance it became known as the Arco di Valerio. Today, it's called Porta Leoni because it is located near a tomb which is decorated with two lions.
The sight pass is valid for twenty-four hours, so you are free to explore Verona all day long, at your own pace as you can plan your own itinerary, choosing the places of your own interest!
Book this tour online now via Viator and get their low price guarantee!