Los Angeles Double Decker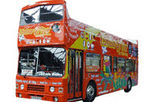 Tour the City of Angels in a big double-decker bus, as you explore the golden coast of California, taking in the glamour it exudes from every corner of the city. Take in the complete LA experience, as you make your way into the city inside an open-top double-decker above crowd level so you can make the most out of the sights and sound of Los Angeles.
The Hop On and Hop Off tour bus takes you to a multitude of exciting spots throughout the city through four different tour routes. You can select your own itinerary through these routes, alternating between spots as per your wishes. These routes and details about them are listed below:
The Red Route bus takes off, starting from the famous Grauman's Chinese Theatre to the La Brea Tar Pits, the Beverly Center, the Farmers market and the world renowned Marmont Hotel.
You can also connect to the Blue Route which takes you north to visit the magical Universal Studios, Hollywood which is a must-see spot for anyone visiting LA, as you get a firsthand view at the phenomenal sets and inventions used for the most popular movies ever created in Hollywood, pieces which remind us of the splendor and magic Hollywood brings into our lives every day.
The purple route will take you downtown to the main districts of Los Angeles, which include Olvera Street, LA live, Chinatown and the Fashion District.
The Yellow Route would take you to the iconic Santa Monica Beach through native LA sites, such as Westwood, Brentwood and Century City.
The forty eight hour ticket gives you the choice of adding an extra route to your tour, which will take you to the homes of movie stars. You will explore the private neighborhoods where the biggest celebrities in the world live in their beautiful homes. The tour includes homes of artists such as Christina Aguilera, Dr. Phil, Madonna, Michael Jackson, Bob Barker and Jennifer Anniston to name a few.
Your tour would be complemented by informative recorded commentary that would keep you up to speed with your surroundings, explaining the significance of every stop that you choose to visit.
Book this tour online now via Viator and get their low price guarantee!