Malta Double Decker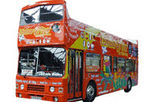 The term "Malta" comes from the Maltese language but it has Greek roots. Many say that "Malta" is derived from the Greek word for "Honey". The Greeks were known to call the island Melite, which means Honey- sweet. It is rumored that it is named thus because of Malta's unique honey production, which is different than anywhere else in the world due to a special species of bee who have the island as their natural habitat.
Therefore Malta became known by its nickname "The land of Honey" to many foreign explorers such as the Romans that visited the island. It is also said that the name Malta comes from the Phoenician word Maleth, which translated means 'a haven'. This could be so because Malta has plenty of beautiful bays and coves.
Malta has gathered up a substantial history over the past seven thousand years, and is full of places that are interesting and unique, with plenty of tourist attractions. A sightseeing tour of Malta lets you experience the taste of all everything these islands have to offer you. You can Hop On and Hop off at the various stops provided throughout the island, so that you can explore at your own pace and leisure, without feeling rushed or leaving feeling like you missed out on something.
The Hop On and Hop off tour of Malta visits the following attractions:
The tour is situated along the Valletta, branching into the North Tour and the South Tour, which makes it easier for you to visit as many key sights as possible.
You will visit the Mosta Church and Dome on your tour, which is the third largest dome in the entire Europe.
Ta'Qali Craft village is also on the list of your stops, which used to be a military aerodome during World War II, it is now the location for the retail of several local crafts Malta is known for.
Rabat, which has several Roman sites, which include the restored Roman Villa along with St Agatha's Catacombs and the town of Mdina, which is truly medieval.
Valletta is a treat to visit as it is Malta's capital, which was originally constructed by the popular Knights of the Order of St John.
Your tour continues to Three Cities, and moves on to the Tarxien Temples, which are said to be constructed back in 3000 BC.
Visit the native fishing village called Marsaxlokk, which is a delight to visit and watch
Your tour concludes with the South tour, which lets you explore Blue Grotto, a famous tourist attraction.
Book this tour online now via Viator and get their low price guarantee!