Brussels Double Decker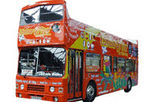 Explore the marvel of Belgium through the city of Brussels, breathing in the open air from the top of an open double-decker bus that would take you around and introduce you to this charming city. Your tour would be full of excitement and knowledge, as you would be provided by informative commentary throughout your trip, making you aware of the significance of all the wonderful sites that you are visiting.
The Hop On and Hop off tour allows you to get on and off the bus at any stop that you like, leaving you free to explore whichever place you choose at your own pace as the bus stops at each stop after a period of every thirty minute while you make your way through the twelve amazing stops on the Brussels tour itinerary. With your ticket being valid for twenty four hours after initial use, you can use this as a ticket to familiarize yourself with Belgium's celebrated capital.
The entire schedule of the Brussels Hop on and Off tour is given below:
Central Station: The best tourist spots to visit here are the Grand Place, the incredible Chocolate Museum, the Albertina Library and the Royal Saint-Hubert Gallery, along with the Rue des Boucher's which has a lot of restaurants.
Short train ride to Eurostar Terminal
Pacheco: Here you can find the Saint-Michel and Saint-Gudule Cathedral, National Bank, Congress Column and the famous Comics Museum which is one of the reasons why Brussels is known as the Comic city.
Place Rogier: Visit the Rue Neuve and shopping along with the North Station
Heysel: This is the location of the Atomium, Bruparck, Brussels Planetarium and the vast King Baudoin soccer Stadium
Bourse-Grand Place: Explore the bustling Fish market and the exotic Sainte-Catherine Church, along with the Stock Exchange and the Covered ruins of a medieval Franciscan Church
Sablon:Â Home of the Antiques Market, Sablon Church, Sablon Garden, Synagogue, Musical Academy, the historic Museum of the Postal Service and the Chapel Church
 Place Louise: Best place for shopping
Lesbroussart: Visit the enchanting Art Nouveau
 Luxembourg Station: Famous worldwide, this houses the European Union District, European Parliament, European Council of Ministers, the Leopoldpark and the Museum of Natural Sciences
 Gaulois: Visit the amazing Cinquantenaire Park with Autoworld along with the Royal Military Museum, the Royal Museum of Art and History and the Triumphal Arch
 Place Schuman: Home of the European Commission and the Rue de la Loi (business district)
 Royal Square: Explore the Royal Park Theatre along with the Belgian Federal Parliament, the Palace of the Academy, the Royal Palace, the amazing Equestrian Statue of Godfrey de Bouillon plus the Royal Museum of Fine Arts along with the unique Museum of Musical Instruments.
Book this tour online now via Viator and get their low price guarantee!