Berlin Double Decker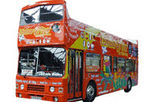 Explore Germany's largest city which is located in the north eastern side of the country. Berlin is the center of the Berlin-Brandenburg urban area, which is geographically set amidst the European plains. Citizens of Berlin enjoy all of the four seasons, as the city has a temperate climate. Berlin is surrounded by forests, gardens, parks, rivers and lake, so it is incredibly beautiful with lush green scenery surrounding it.
Berlin is host to some of the most impactful events in the history of the world, and your Hop On and Hop Off tour would help you explore all of the famed streets and monuments within the city. Your Berlin tour lets you Hop On and Hop off at any location of your choice, as many times as you would want at any of the sixteen stops set in the tour's itinerary. As a bus departs at an interval of every ten minutes, you can take your time exploring to your heart's content. The tour takes you to some iconic places such as Checkpoint Charlie, the Berliner Dom Cathedral, the Pergamon Museum along with the fantastic Charlottenburg Palace and the Brandenburg Gate.
There are two tours throughout Berlin that you can take so that you can explore the places that interest you the most. These are:
Traditional Tour (Red Tour): This tour takes you around all of the must-see stops in the classic Berlin Tour. You will get to visit the Brandenburg Gate, KaDeWe, TV tower and Checkpoint Charlie. You will be kept up to speed on your surroundings through interesting commentary you can listen to through headphones in a language of your choice. These include English, German, Spanish, French, Polish, Russian, Chinese, Japanese and Italian.
Wall and Lifestyle Tour (Green Tour): The stops on this tour are likely to stay with you for a long time, as you would get to visit the Berlin wall Memorial. You will also get to explore an actual WWII bunker along with discovering Prenzlauer Berg, which has various eateries and galleries, along with the East Side Gallery, which is the longest preserved section of the Berlin Wall on the tour. The tour is two hours long, accompanied by live commentary in both English and German.
Combine Your Tour With Hamburg: You also have the option to combine your Berlin Tour, with a tour that lets you spend a whole day in Hamburg. You will be taken on the BerlinLinien Bus from the Berlin-ZOB bus stop to Hamburg. You can decide when you want to go, as there are eight different departure times daily with an interval of two hours starting from 9 am.
Book this tour online now via Viator and get their low price guarantee!