Bath Double Decker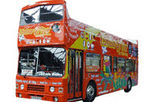 Bath is a truly historical place to visit while you are in the UK. It has housed several of England's most prominent literary names, which has earned the city honorable mentions in several of their books. Bath was particularly popular as a place for retreat in the Victorian times, and has been noted as such by brilliant authors such as Jane Austen and the Bronte sisters.
You can get lost in the historical sites around Bath, as you rumble through this famous Georgian city in a big double-decker bus, visiting diverse museums with impeccable historical accuracy, delightful shopping and dining experiences along with a culturally enriched tour that would satisfy any academic who has come on tour to experience the beauty and serenity that Bath has to offer, that the literally giants of yore enjoyed.
There is so much to do in Bath as your Hop on and Hop Off tour takes you through an extensive itinerary of places that you can sort through to customize an itinerary for your own tour so that you can visit all of your places of interest so that you can make the most out of your touring experience. Some of the highlights of the tour are listed below:
As Bath has the designation as a World Heritage site given by UNESCO, it is host to some of the best architectural sights across Europe. These include the Royal Crescent, The Pulteny Bridge and the Circus.
The biggest attractions that Bath has to offer are the Roman baths situated in the city. These baths have attracted people to Bath for the past two thousand years, as the mineral waters were believed to have healing powers in olden times.
You can also visit the Roman Bath's museum which houses some of the best Roman artifacts in Britain. You can also get a sense of fusion and visit the Thermae Bath Spa, which is a place that combines the ancient waters with modern spa therapy for the ultimate luxury for your retreat.
The tour takes you to the same streets Jane Austen wrote about in her classic book Persuasion, to the Assembly rooms which housed the romantic hero Fredrick Wentworth and buildings like the apartments Anne Elliot takes shelter in when visiting her sick friend.
You can complete your tour with a final, elegant afternoon tea in true British fashion. You can choose to have this within the grand Pump Room or at quaint Sally Lunn's, which leaves you feeling like you have experienced the best of Bath at the end of the tour.
Book this tour online now via Viator and get their low price guarantee!