Athens Double Decker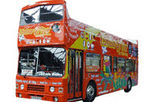 Greece is the original city of culture, mythology and enchantment, brimming with history, ideas and art, home to the ancient gods, philosophers and great artists that make Greece the most entrancing place in the world today, and Athens as its capital is a prime example of Greece in all its glory.
Athens is vast, and there are so many amazing things to see that it is impossible to do so without a well mapped out schedule and guide that can provide you with the best information about the sights and your surroundings once you are there.
The Hop On and Off tour allows you to explore Athens at your pace, allowing you to take in the sights and sounds without being rushed off in another direction before you are ready. You will get to visit the best historical and contemporary sights of Athens in a comfortable way, aided by professional commentary about the attractions that you are witnessing.
The major attractions on the tour include places that date from the ancient times such as the Acropolis, the Parthenon and the Plaka, and modern facilities such as the New Acropolis Museum and the National Archeological Museum with original native artifacts which are a wonder to behold.
Some of the major highlights of the tour include the following must-see spots that add substance to the city of Athens:
      Temple of Zeus: Also known as the Columns of the Olympian Zeus, the Temple of Zeus is a gargantuan ruined temple in the heart of Athens, dedicated to the worship of the ancient Greek God Zeus. This site has held enormous historical significance throughout time, and had most recently served as the site for a ceremony of worship by the Hellenic Neo-Pagans, who won a court battle to obtain permission.
      Kotzia Square: Kotzia Square has multiple names in Athens and serves different purposes for the citizens of Athens. However it is an exceptional work of architecture, and has some of the most beautiful fountains that can be found in Athens.
      Panathinaiko Stadium: Also known as the Kallimarmaro in Greek, which translates into "beautifully marbled", this is a giant athletic stadium which was home to the initial modern Olympic games back in 1896. This stadium was rebuilt from the remains of the ancient Greek arena of the same name. It is the only major stadium in the entire world which is made purely from white marble from Mount Penteli.
Book this tour online now via Viator and get their low price guarantee!