Amsterdam Double Decker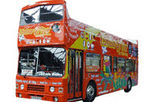 Amsterdam is the fun central of the world, from its art and culture to its famed nightlife, avant-garde fashion and quirky hotels which are a combination of Victorian Architecture and modern innovation, which makes Amsterdam one the most interesting place to visit in the Netherlands.
Since Amsterdam is flooded by tourist hotspots, its coveted locations are always crowded with people which might ruin the feel of a fun holiday. Hence, you should try the Skip the Line tour in Amsterdam, where you can take the canal-bus across its various canals to view the city, which is really the best way to travel when you are in Amsterdam.
You can hop on and off as much as you want at the fourteen diverse stops on the tour, which includes stops at Amsterdam's finest museums, hotspots and markets. You will be provided with interesting facts about the places that you are visiting through engaging on-board commentary which you can use when you are traveling along the city.
- The main attraction on this tour of Amsterdam is a trip to the magnificent Van Gogh Museum which is a central priority for most tourists to visit. The museum is the proud host of the largest collection of Van Gogh paintings than any other museum in the world, which includes his most celebrated works like Sunflowers and a lot of self-portraits. The main attraction that the tour has to offer you is the opportunity of jumping the lines at the Van Gogh Museum, which you can tour in peace before you hop back onto your canal bus.
- Another must-see place on the tour is the Anne Frank house, which is the original secret annex where Anne Frank and her family took shelter during the war. The Anne Frank house is brimming with history, and is a place that you would not like to miss during the tour.
- Other amazing stops include the Rembrandt House, which is a beautiful museum based around a working painter's life, which includes his workshop and his living space where he creates his art. Apart from that you can check out the Artis Zoo and the Maritime Museum which has plenty to attractions to offer that will hold your interest.
Book this tour online now via Viator and get their low price guarantee!